Plenty of older homes have great bones, but just need a little updating. If you find yourself in possession of an older home that you want to renovate, you might be trying to decide what should be done about it. What aspects of the home should you fix first?
Well, the bathroom is a key renovation site, because many old bathrooms have hidden leaks, faulty plumbing, or just plain old weird design decisions built into their walls. You might even be trying to find the best frameless shower doors for out of plumb walls. Here are the top five tips to make your old home's bathroom feel new again.
Replacing a Tub? Inline Shower Layout #16
Inline Frameless Shower Layout #16
Simple Installation
Customizable
Fully Frameless Design
Great Look
Update the Shower
When you're fixing up the bathroom in your old home, remember that getting a new shower can make even the smallest or oldest bathroom feel modern and fresh. Even if your walls aren't quite straight, a new customized shower will bring the wow factor that will make your renovation feel worth it.
A new shower doesn't have to be an ordeal, either. If you have a weird space, as many old homes do, you can get your shower custom-designed to fit whatever room you have. It can be a corner space, a square standout, or even just an inline or simple shower door if you have an alcove. Not having to deal with frames, the strict dimensions of a shower kit, or the limited colors of a pre-fab shower means that you can do a lot more with less, even in an older home.
Retile the Walls or Floor
Another possibility to consider when looking to update an old bathroom is retiling. Putting in new tile can make a bathroom that felt dingy or outdated feel brighter, more modern, and so much cleaner. With a custom frameless glass shower, you also have the opportunity to a lot of the bathroom. A tile pattern or split-level tiling, with different tile at different heights on the wall, can have a huge visual impact while being simple to install.
Getting a shower from Glass Shower Direct also has the benefit of measuring our showers out to the eighth of an inch, so if your tiling process take away a fraction of an inch, you don't need to worry about your shower not fitting. You can simply order the shower at the correct dimensions once the tile is in place, and relax as it is made just for you.
Let the Shower Pop by Replacing the Vanity
A smaller but still important change you can make is updating the bathroom vanity. Removing a dated vanity and replacing it with something modern can make other details about the room look purposeful, instead of left over from a previous owner. For example, getting a sleek vanity can make a 50s-era bathroom look like a paragon of mid-century modern style instead of simply old.
Even a new coat of paint and new hardware can give an old vanity new life. Sleek metallics or matte black are two great options for vanity hardware that will give it a new look. You can also match your vanity hardware to your shower hardware, and have a bathroom where all the little touches are silver, black, or gold. Having matching fixtures and hardware make the room look intentional, and that's what you want after a remodel.
A Classic Look – Corner Glass Shower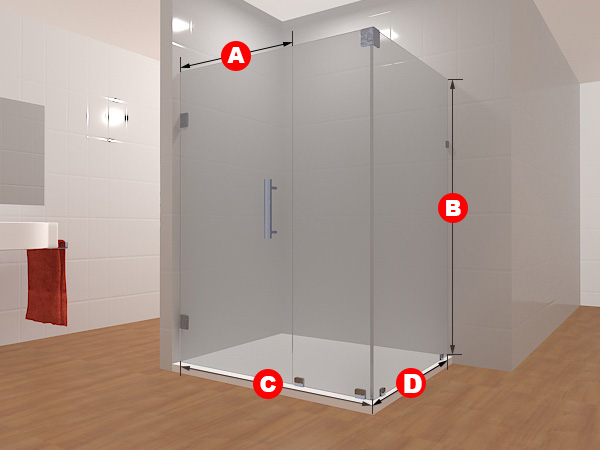 90 Degree Frameless Glass Shower Layout #2
Clean Lines

Fits Your Space

Fully Frameless Design

Classic Look
Emphasize the Shower and Reframe the Mirror
Even simpler than painting the vanity is getting a new mirror. A thick, dramatic frame on a mirror can be a statement piece that helps you choose elements for the rest of the room. On the other hand, a frameless mirror can help keep the bathroom looking sleek and simple.
Mirror size and placement is also something you can place with. One large mirror above the sink can draw the eye, and in tight spaces adding other mirrors can make the room look bigger. Using a clear, frameless glass shower and a few mirrors can make the smallest bathroom feel roomy. Old homes can feel cramped, so use this effect to your advantage!
Replace the Light
Old light fixtures can date a room. Especially in the bathroom, where lights are subject to a lot of humidity, it's smart to change out the light fixture every so often. Getting matching light fixtures for over the shower and by the sink can be the detail that takes a regular bathroom to a place that's enjoyable to spend time in.
If you find a particularly interesting light fixture you'd like to feature in your bathroom, using a glass shower can help you feature it more proudly. With a clear or frosted glass shower door, light can be seen much more easily, and you aren't as tied to traditional light placements. You can place a light above the shower, yes, but if you find something that you want seen more easily, you can move the light to the center of the room without sacrificing visibility in the shower.
Wrapping Up
Renovating or remodeling an old home can seem like a lot of effort. However, it doesn't have to be that way! If your older home has good bones but just needs an update, there are plenty of simple ways to refresh it. Updating your shower, updating your fixtures, or redoing tile are all relatively short projects that can make an older room feel new again. If you're interested in getting a shower that can handle your old home's quirks, like out-of-plumb walls, feel free to look at the showers at Glass Shower Direct.