If you are looking at installing a new shower, you probably have some questions. You might be worrying about technical aspects or financial costs of the shower. You might be wondering what kind of style you want, what will match your current bathroom, and what kind of showerhead will give you the best water pressure. You might not be thinking about what shape your shower will be, but you should.
Showers do not have to be the standard box shape anymore – if you are looking for something interesting, your shower can be a variety of different shapes and fit a ton of different bathroom layouts. Don't stress about trying to fit a luxurious shower in the space you have. With a customizable shower, there is definitely an option that will work for you. Here is an outline of the possibilities, to help you choose the best frameless glass shower enclosure for you.
The First Choice: Glass Shower Door Layout 1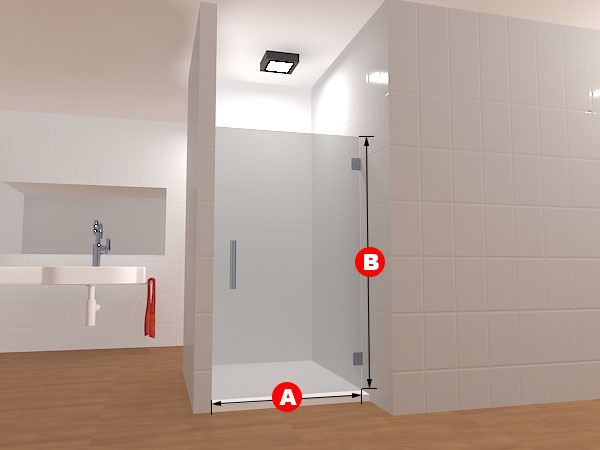 Single Glass Shower Door Layout #1
Variety of Widths
Simple Installation
Fully Frameless Design
Elegant Shower Solution
Inline Panel Shower Enclosure
The first and most basic style of shower is a simple door in an alcove. If you have a pre-built alcove that you want to put a shower in, the simplest way to make a great space is to just put a door across the entrance. If you have two parallel walls, you can use a door, or a door and one or more inline glass panels to fill the space.
This is the ideal shower shape for narrow bathrooms, bathrooms where you are removing or replacing an old alcove shower, or bathrooms where you are adding walls and creating new alcoves. It's also a great choice for large showers where you want multiple shower heads, because with three solid walls you have no worries about water making its way out the shower door.
Also, any of these options can be set to meet the ceiling or to leave a gap at the top. This is up to you and your aesthetic decision. Leaving room at the top can help the bathroom as a whole feel more open, while closing the gap can make your shower feel cozy, contain the heat of the water, and give a sense of privacy, especially with frosted glass.
Square or Rectangular Shower Enclosure
If you want a shower in the corner, you can go for a traditional look and build a square or rectangular frameless glass shower enclosure. In this style of enclosure, you have two walls of glass and two tiled walls that are part of the room. This can maximize floor space in the shower itself. It is still simple to install, and the clean lines and 90-degree angles of a square or rectangular frameless glass enclosure emphasize the already-modern feel of the shower itself.
This style is best for bathrooms with a large floorplan, or bathrooms that are relatively square. Using a glass shower enclosure can also help emphasize the amount of space in this kind of floorplan, because clear glass especially keeps sightlines open. It maintains a sense of style while giving as much valuable space to the shower as possible.
Neo Shower Enclosure: See from a New Angle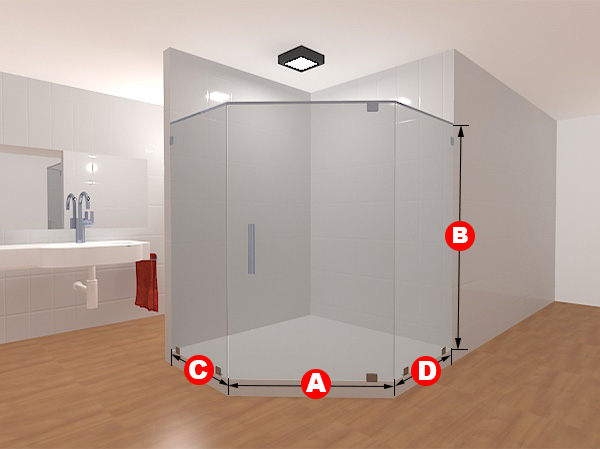 Multi-Angle Glass Shower #3
Large Door Available

Fits the Angles You Need

Fully Frameless Design

Fills Wide Spaces Easily
Neo Shower Enclosure
If you're not feeling a square shower, or if your bathroom floorplan has drains or plumbing in awkward places, you can look into getting a Neo shower. This shower layout also functions in a corner, like the square shower. But instead of sticking with 90-degree angles, this shower cuts off the corner where the two panels meet and adds a third panel.
This design is great for maximizing the floor space of the bathroom itself, while still keeping the shower spacious. It also softens some of the sharper angles of the all glass shower enclosure, which can add a touch of grace to a room that is not supposed to feel too modern. With a custom shower, you can also choose which panel has the door and which way the door opens, making this the most flexible of the three standard designs.
Build Your Own Shower Enclosure
If none of these options quite fit what you are looking for, you can always design a shower just for yourself. By ordering individual panels, you can design the shower that fits the needs you have. You can mix and match frosted and clear glass, you can have extra panels, or even mix heights of panels so that some go to the ceiling and some stop short. The limit is really just what you can imagine.
You can also mix hardware colors, in case you want a more eclectic look, or get replacement parts for a shower you already have. Ordering specific panels and hardware allows you to get what you want, how you want it. Don't forget – with the ability to choose the tile look for your bathroom as well, getting individual panels lets you create a shower that will be the envy of everyone who sees it. Build the luxurious, comfortable shower that you deserve. It's easier than you think!
Wrapping Up
There are plenty of styles of frameless glass shower enclosure for you to consider. This means that of course there is going to be something that fits your exact preferences. Do not be weighed down by the limited patterns and colors of a prefab shower.
Go above and beyond and order the shower that you really want, and make your bathroom feel like the oasis you deserve. Here's how you can choose the best quality frameless shower designs. It's easy when you can customize the shower to be exactly what you want!