If you're considering renovating your house, or just your bathroom, one of the first things that frequently comes up is how much the whole process is going to cost. It's easy to take what is supposed to be a simply renovation and end up spending thousands more than you intended. So, when you're interested in replacing your shower, the first thing you think about is how it will fit in your budget. You might go looking for a glass shower enclosure price list, for example.
Well, with a customizable shower, you don't need to stress about your budget. You won't need to purchase a full kit, or more shower than you need. You can also get different tiles, fixtures, or other accessories that fit your style and your budget, without being stuck with someone else's aesthetic preferences. Here's four examples of ways you can purchase a shower that looks great, works with your bathroom, and won't break the bank.
Simple and Easy to Clean: Square #6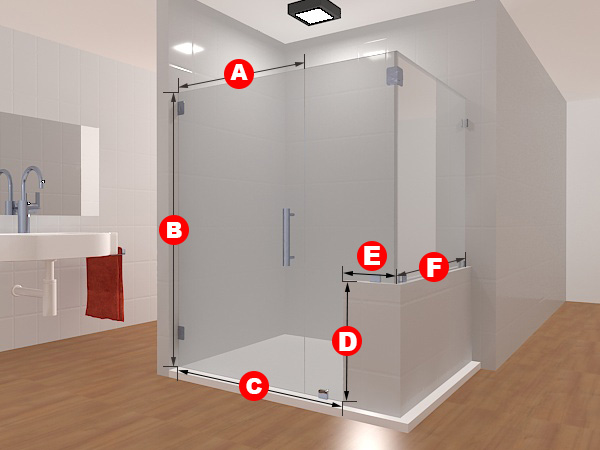 90 Degree Frameless Glass Shower #6

Simple to Keep Clean

Keeps Costs Down

Fully Frameless Design

Customizeable with Bench
Buy a Glass Shower Door with Inline Panel
If you have the right space for it, a simple glass shower door with an inline panel is absolutely the simplest and easiest way to have a gorgeous shower in your home without breaking the bank. With just two panels and a minimum of hardware, this shower style is simple and elegant. By taking advantage of a pre-existing shower nook in your bathroom and installing a new frameless glass shower door there, you can update your home without spending thousands.
A frameless glass shower door with an inline panel is also the easiest of all the shower styles to install yourself! Any of the showers in this list can be installed without professional assistance, but if you're unsure of your handyman skills, this is the easiest place to start. We also have instructions on our website here to guide you through the process of getting your new shower up and running in no time.
Buy a Knee Wall Shower Enclosure
If you have a knee wall in your bathroom already, then you might as well take advantage of it and install your shower with that knee wall incorporated into it. Knee wall shower panels are shorter than the standard panel, and therefore less expensive. If you have this feature anyway, why not make use of it and cut down some expenses?
Not every glass shower fabricator has the capability to make these shower panels, however, so if you're interested, you should do your research. There's no reason to sacrifice customer service or complete satisfaction with your product just because you're looking to keep costs down. The best fabricators will be able to custom make a knee wall glass shower panel for you easily without costing obscene amounts.
Buy a Square Shower 
Buying a square or rectangular frameless glass shower brings your total number of panels up to three, in most cases. If you don't have the right space to put in a glass shower door with an inline panel, then square or rectangular showers only bump the amount of glass and the cost of the overall shower up slightly.
These showers are still very easy to install, and come with all the required hardware. You don't have to worry about running out to the store to get a hinge or a screw that you forgot. The hardware included is also available in multiple colors, so you're sure to get a style you like for your finished product.
Space-Saving Design: Inline Glass Shower #13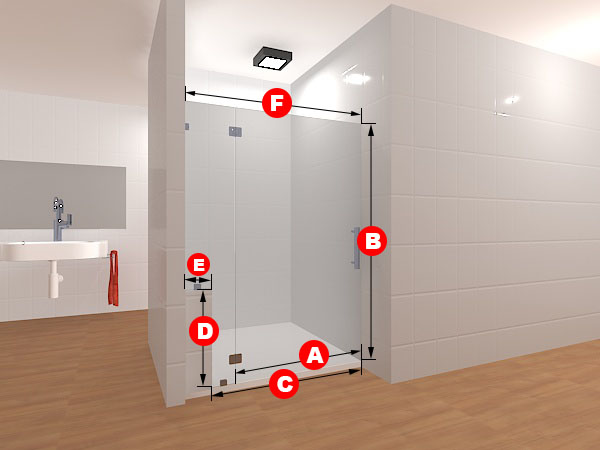 Inline Frameless Glass Shower Layout 13

Compact Design Ideal for Small Spaces

Customized with Knee Wall

Fully Frameless Design

Simple and Customizable
Shop Specials
Obviously, if you want a good price on a product, you should always shop sales. Some glass shower enclosure fabricators, like Glass Shower Direct, have specials online just for people who are interested in purchasing a shower quickly and simply.
Glass Shower Direct's specials are the 90-degree frameless glass shower enclosure, and the inline frameless glass shower. If either of those sound like they fit your needs, then you should consider checking out the specials page on our website right now.
Buy Individual Panels
If nothing above sounds quite right for you, you can always purchase individual panels. Getting the exact hardware and the exact glass that you need for your project is cheaper than you might think. It also prevents buyer's remorse. If you got the right thing the first time, with the right supplies and the right colors, then even if you spent more than you intended, you won't regret it. You got the shower you really wanted!
The other benefit of buying individual panels is your ability to build shapes that fit your bathroom without having to have someone else design it for you. If you measure out your space and outline where you want your shower to be, you can just purchase each panel to your own particular specifications. Without the added cost of someone else's design time, you can keep the shower purchasing experience simple and economical.
Wrapping Up
Renovating your home doesn't have to be a huge, expensive endeavor. If you want to add a new, eye-catching feature to one of the most important rooms in the home, replacing your shower with a frameless glass shower enclosure can be done quickly and for less money than you'd expect. You deserve to have the kind of shower that lets you feel like you live at the spa. By ordering exactly what you want and nothing more, and installing it yourself, you can both save money and have the kind of pride in your home that not many people feel today.