When renovating your bathroom, it can seem like there are just too many options. There are plenty of things to make a decision about, including what to do about hygiene. If you've already gotten as far as deciding that you want a shower in your bathroom, then you're probably facing a new decision: what kind of shower should you get? The main two varieties of shower can be summarized as framed and frameless showers. If you're currently comparing frameless vs. frames shower doors, then you should know that there's a clear winner. Frameless showers are better for a wide variety of reasons, and here are five of them.
Extra Wide: Inline Glass Shower #14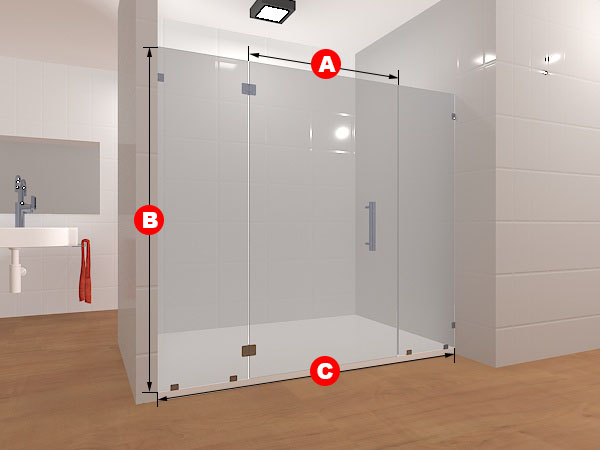 Inline Frameless Shower Layout #14

Frosted Glass Options for Privacy

Spa-like Atmosphere

Fully Frameless Design

Customizable Hardware
Showers Are Easier to Clean
Frameless shower doors are much easier to clean than their framed counterparts. The lack of a frame means that there's many, many fewer places for germs, mold, and grime to hide. A traditional framed shower has places on every edge and in every corner where unhygienic grime can accumulate, between the frame itself and the shower door. With a frameless shower door, you have a large, smooth, flat surface, without ridges or corners for dirt to get trapped in. Instead, you can simply spray the door with your favorite glass cleaner, wipe it down, and your shower will look brand new. Talk about simple!
Glass Showers Have a Classic Look
Framed showers have so many parts involved that it's easy for them to look dated. Because they usually come pre-designed, you're stuck working with someone else's aesthetic vision, and what might seem appealing today will look cheesy or tacky in a decade. You want your bathroom to look great for as long as you live in your house, and to appeal to anyone who might want to buy it in the future. An outdated shower is not going to help you with that!
Frameless showers, in contrast, use clean lines and simple designs that will never go out of style. Classic design elements like glass and simple metallics are a huge draw for any design, and work especially well in hard-floored rooms like the bathroom. You can also choose to customize your frameless glass shower, by using whatever tile and fixtures you want. A frameless glass shower can be a focal point or an accent, depending on your style preferences – it's up to you!
Fill Your Space: Inline Framless Shower #7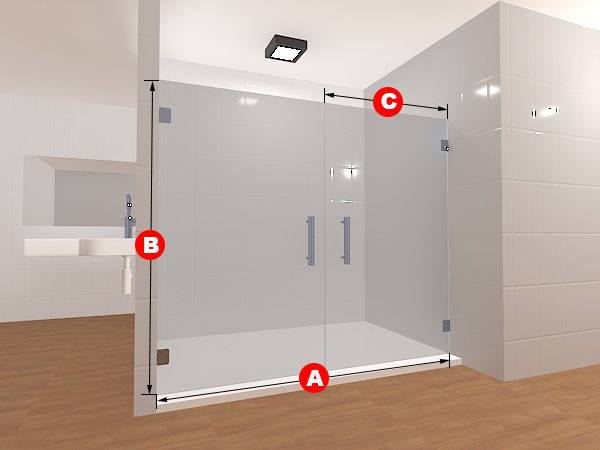 Inline Framless Glass Shower #7

Make a Bold Statement

Customized with Knee Wall

Fully Frameless Design

Easy to Update
Showers Are Easy to Install
Compared to other showers, frameless showers are also much simpler to install. A framed shower often comes with a wide variety of parts, and sometimes must be installed by a professional. Depending on what kit you get, it may even be impossible to get into your home without significant assistance or taking out doors and walls. However, a frameless glass shower can be as simple as tiling your space and installing a single door. You can get frameless showers that are more complex, of course, but most have two to three panels and a small amount of hardware. Two people can install a frameless shower in an afternoon, if they have the tools, and most DIY enthusiasts should!
Showers Are Simpler to Update
If, for some reason, you want to change part of your shower, it's almost impossible to do with most framed showers. That type of shower comes in a kit, with all the pieces pre-measured and designed to only fit the other pieces in the kit. To replace a hinge or a door handle, or to change the shower dimensions, may require you to purchase an entirely new shower. That's part of why framed showers can look dated so quickly – a change to the rest of the room can't easily involve the shower as well.
However, with a frameless glass shower, changing it up is as simple as ordering individual new parts. These parts can be ordered custom, just like the rest of the shower. New hardware that is guaranteed to fit your shower can be found at the click of a button. Even a drastic color palette change from warm tones to cool can be fixed with the purchase of some new hardware – the glass can all stay the same!
Wrapping Up
There are lots of options out there for your bathroom remodel, to be sure. However, just because there are lots of choices doesn't mean each choice is made equal. Framed showers used to be the only option, and plenty of people think that's still the case. However, getting a custom-designed frameless glass shower for your modern home is simple and will make your life much easier down the road. Frameless showers are more hygienic, easier to customize, and easier to install than the framed showers of yesterday. If you're interested in getting a frameless glass shower, why not go check out the rest of your options in our store today?