One of the more non-traditional home styles that many people are interested in is the tiny home phenomenon. These homes are frequently built on trailers, so they can be moved from place to place, and their defining feature is being small but well-organized, with every inch of space put to good use. Most of these tiny homes are built by hand, by the people who intend to live in them.
They present some interesting challenges; specifically, plumbing in a tiny home can be a struggle. Finding a shower that maximizes space in a tiny home while still being attractive is hard, because there aren't many companies making glass shower doors for motorhomes. However, if you get creative, you might find that there's an obvious answer: look for modular shower components that can be customized for your space. Here are the top four qualities to look for in a shower to include in your tiny home.
Height of Simplicity: Single Glass Door #2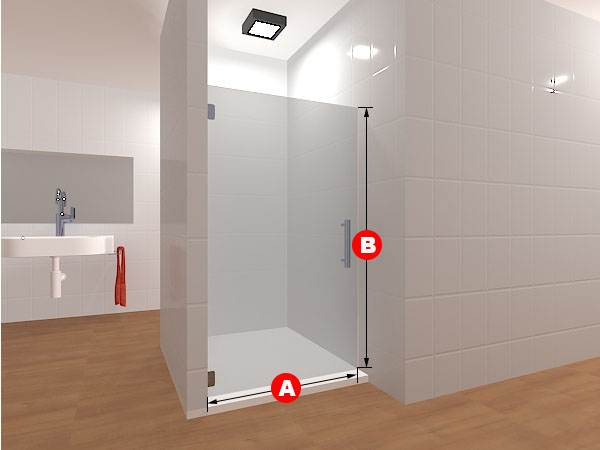 Single Glass Shower Door #2

Simple Installation

Saves Space

Opens In and Out

Customizable Hardware
Space-Efficient
Obviously, in a tiny home, the most important aspect of a shower is how well it fits in the space allotted to it. Many tiny homes have footprints of less than 120 square feet, which means that a useful shower might take up 10% of the entire house. With that in mind, you want to avoid sliding doors or shower doors that open out. Sliding doors require a place to slide them to, which may not be possible in a tiny home. A door that only opens out needs several feet of clearance, so that you can get into the shower at all.
The type of shower door you want should be able to open on a hinge in either direction – opening into the shower lets you enter without hitting anything, and opening out allows you to exit from a small space easily. You also should consider getting hinges that attached to the top and bottom of the door, instead of at one edge. This saves you precious inches of space on the shower door's opening radius. Inches are everything in a house that's ten feet wide!
Customizable
Tiny homes often have strange dimensions. A shower may have a built-in seat, which is actually a drawer that pulls from the outside to store towels. Being able to customize your shower wall so there is a just door and a knee wall panel over that seat would be incredibly helpful! Even if there is no ingenious storage happening around your tiny home shower, you still want to make sure the door isn't too wide for your space, or that the inline wall panel doesn't extend too high.
This level of customization is crucial to all aspects of a tiny home, not just the shower. However, the shower and the bathroom facilities in general are where customization is often hardest to find. Finding a good shower fabricator who makes the shower to your specifications can be the difference between feeling like you're camping as long as you live in the tiny home or feeling like you live in just that: a tiny home.
Add a Bench – Inline Shower #4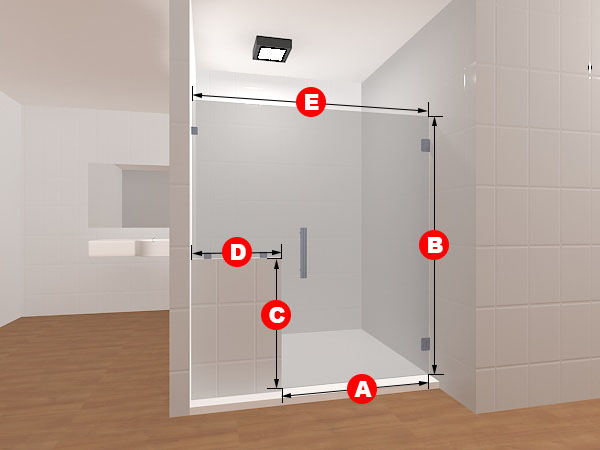 Inline Frameless Glass Shower Layout #4

Classic Look and Layout

Customized with Knee Wall

Fully Frameless Design

Can Use Knee Wall as a Bench
Aesthetic 
Most tiny home owners, when pressed on the matter, will admit that part of what appealed to them about a tiny home was the aesthetic of the whole thing. The craft with which tiny homes are put together, the thought that goes into where everything will be stored, and the simplicity inherent in a home that is the size of a large bedroom has a real draw. If you're trying to really make your tiny home what you want, you shouldn't back down before you get to the bathroom.
A tiny home shower should be just as aesthetically pleasing as the rest of the house. With a frameless glass shower door, you can really make sure that happens. You can purchase hardware that matches the rest of your tiny home, and even choose whether to prioritize privacy or open lines of sight by deciding between frosted or clear glass. Don't sacrifice aesthetic for convenience when you can have both!
Simple Installation
There's a real DIY impulse behind most tiny homes. Even if parts of a tiny home are purchased pre-built, there's a lot of satisfaction to be had by making or installing as much of your home as possible. Frameless glass shower doors are super simple to install, and don't require much more prep than a standard shower. If you have the DIY spirit to lead you to build a tiny home, you definitely have the skills to install your own shower!
A frameless glass shower door only requires a few tools. You need a level and a tape measure to make sure the walls and floor are plumb and even, and the screwdriver with a masonry bit to drive the screws that will hold the door to the wall. Other than that, all that installing the door takes is an assistant to help hold the door in place, and you're set! Not many things are easier to add to your tiny home than that.
Wrapping Up
If you have a tiny home, lots of things can seem complicated to build or add. A shower doesn't have to be one of them. If you are planning on living in your tiny home for a long time, it's key for your comfort that you can get clean easily and without a hassle. The difference between camping and living is how comfortable you are, after all. There's no reason to skimp on comfort just because you like to travel and live simply. A frameless glass shower door can be just what you need to make your tiny house feel like a home!