When you look at luxury showers, in those aesthetic pictures of the homes of rich and famous people, what is a feature you almost always see? Outside of the gorgeous tilework and the attractive clear glass enclosure, you probably see a bench. Having a built-in bench in your shower is a sign that your bathroom has not just been built, it has been
designed
. A glass shower enclosure with a bench shows that you put thought into your bathroom from the very moment you started putting in the floor.
If you aren't sure about having a bench yourself, it might help to know all the reasons why they're appreciated. Here are the top five reasons to consider getting a built-in bench in your own shower.
Accessible: 90 Degree Shower #14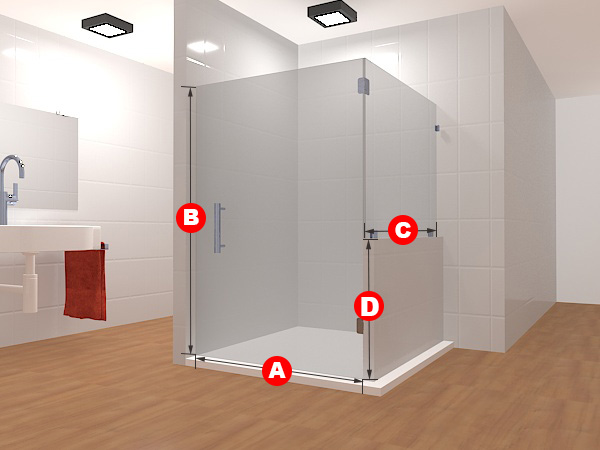 90 Degree Frameless Glass Shower Layout #14
Simple to Keep Clean

Curbless Entrance

Fully Frameless Design
Easy Access for Mobility-Impaired
Shower Accessibility
The most important reason you might need to have a bench in your shower is accessibility. Even if everyone in your home can currently stand for long periods of time in a slippery room, that might not always be true. What if you live in the house until you are old and need some mobility aid? What if you or a family member gets injured and needs to sit to shower? What if you have a guest who needs that kind of aid in the shower?
Benches are just a good safety measure in general for your shower. You can build them into your glass enclosure shower simply, too. If the bench extends to the edge of the shower, you can get a knee wall panel as part of the enclosure. Then the bench will simply be a part of the wall where it meets the glass.
Bathroom Atmosphere
Being able to sit down in the shower can make your morning routine feel like a daily retreat. Having a bench makes every shower like a moment spent at a spa. Combine that with the clean lines of a frameless glass shower enclosure and your bathroom's atmosphere goes from good to stellar.
A spa-like atmosphere is trending in all aspects of bathroom design right now. Having a built-in bench in your shower is the kind of feature that can't be replicated by folding your towels a certain way. It can make your atmosphere feel authentic in a way little else can.
Convenience
Benches are also just practical. They can act as a resting place for shampoo, soap, or razors. For people who shave their legs, it gives them a ledge to rest their foot. They can also sit down and shave without worrying about their balance.
The biggest convenience of having a bench can be having a place out of the direct stream of water to put things that you want to avoid getting soaked. Certain face products or cleansers come in pots, instead of bottles. These products also are the most likely to contain salt or sugar crystals that will melt and lose their exfoliating power if they are exposed to water before they make it onto skin. A wide built-in bench can keep that from happening!
Space-Saving Design: Inline Shower Layout #6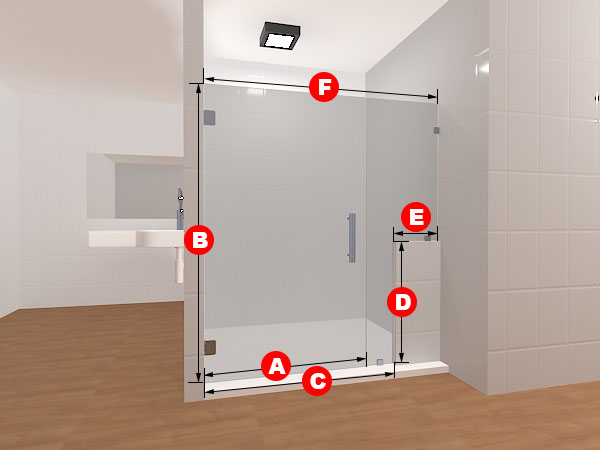 Inline Frameless Glass Shower Layout #6

Customized with Knee Wall

Knee Wall Can Be a Bench Edge

Fully Frameless Design

Classic Look
Bathroom Storage
Benches can also be used as storage. The bulk of the bench can be inside of the shower, but outside the shower there might be drawers or doors to a cabinet. This kind of low, inconspicuous storage is ideal for storing extra items like shampoo, conditioner, spare sanitary products, or anything else that you might want to keep out of the way. You can also have the bench extend outside of the shower, and have the external seat lift up. That is a level of hidden storage that most people don't consider!
In smaller bathrooms, or in homes without much storage, this can be a great feature! There is almost never enough storage in homes like those found in the tiny house craze. If you're considering that kind of space-efficiency in your own home, combining a built-in shower bench with a space-saving glass shower enclosure might be the right plan for you.
Shower Aesthetic
Finally, we come back to that movie-star aesthetic. Shower benches just look cool. They look sophisticated. They look like someone really cares about how the space looks, and that intention impresses people. If you combine a built-in shower bench with an elegant glass shower, stylish hardware, and great tile, you can have a shower to be proud of. This doesn't have to take much effort, either – buying your shower custom-sized to fit the space you have makes this idea simple to put into action.
Benches don't take up much room, either. If you stood close enough to a wall that your legs would be where the shower bench is, your elbows would be running into things. The bench looks great without taking away any functionality of the shower itself. Win-win!
Wrapping Up
Having a bench in your shower is great. It can help out your friends and family, or even your future self. You can store things in it, set things on it, or use it to make your shower routine easier. Even better, it just looks classy! Putting a bench in your shower isn't hard, either.
With a custom glass shower enclosure from Glass Shower Direct, your shower can be designed around the features you want. You don't have to choose feature based on what fits your shower!