Frameless glass showers are a very stylish look in any bathroom. However, they have one aspect that some people may not like: you can see through them. If you want to preserve a sense of modesty and frosted glass just won't do it, you do still have options. One way to compromise and have the look of a frameless glass shower while still having opaque surfaces is to incorporate knee walls into the enclosure.
A glass shower enclosure with knee walls has all of the style of a full-length glass shower, while giving a little bit more security to those who prefer solid surfaces. If you're not sure how you can make that work in your bathroom, here's how to add knee walls to your own shower.
Maximum Privacy: 90 Degree Shower #11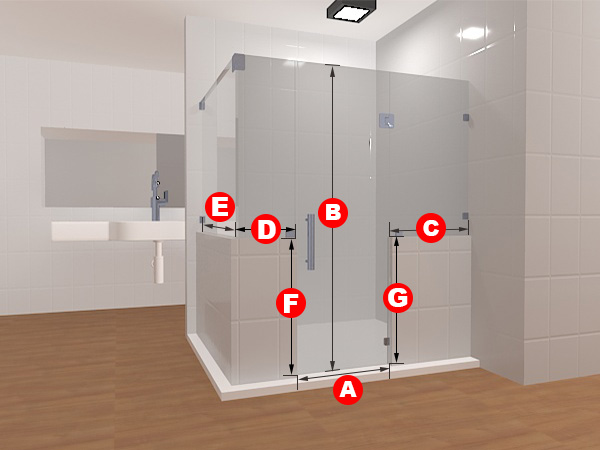 90 Degree Glass Shower #11

Knee Walls Can Be Vanity Edges

Frosted Glass Adds Extra Privacy

Fully Frameless Design

Customizable Hardware
Incorporate the Vanity into the Shower
If you have a vanity built into your wall, you can incorporate that into the side of your shower. If you have enough space between the vanity edge and the sink edge, consider waterproofing and tiling one edge of the vanity to make it a part of your shower. You can also extend the side of your vanity out perpendicular to the main wall, to create a knee wall for your shower.
By using the partial-length, customizable glass panels available from Glass Shower Direct, you don't have to worry about builder-standard dimensions. No matter how you choose to incorporate your vanity into your shower, it will work out. You can put in your exact measurements, and you will get glass cut to fit your situation perfectly.
Include a Shower Bench
You can also incorporate a bench into your shower enclosure similarly. You can build up a wall to use as a seat back while also preserving your privacy. A bench has a ton of uses in your shower. You can use it as storage, with drawers or doors outside to let you into the storage space under the shower bench. You can also place things on top of the bench inside the shower, use it as a place to help shave your legs, or it can help people with mobility issues stay safe.
Including a bench also makes a bathroom seem a lot more put together. It adds elegance to the room, and a spa-like ambience. Adding a bench to your shower can make it the centerpiece of your bathroom. Combine that with classy tile and the clean lines of a frameless glass shower and you have a showpiece of a bathroom.
Use the Shower Knee Wall as Storage
If you'd prefer to avoid installing a bench in your shower, you can also install storage, full stop. It's hard to go wrong with having as much storage capacity as possible. Installing a wall of drawers, cabinets, or open shelves at the perimeter of your shower gives you a great place to store extra towels and general toiletries. It also gives the room a custom feel. It becomes clear that you were intentional in the design of your bathroom, and you put thought into how the room was put together.
Incorporate Architecture: Neo Shower #13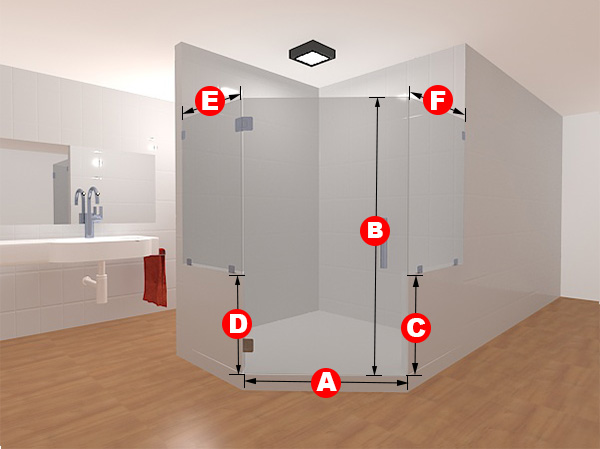 Neo Frameless Glass Shower #13

Works with Your Room

Customized with Knee Wall

Fully Frameless Design

Great for Small Floorplans
Use an Existing Knee Wall
You may have a knee wall already in your bathroom. These low walls are often found in older bathrooms, dividing the bathing part of the room and the vanity area. If you have this wall already in place, you can use it as-is or build it higher to act as part of your custom glass shower's enclosure. Either way, it works great as a division in the room.
You can also combine a knee wall with a frosted glass partial panel, for the maximum amount of privacy along one side of the shower. If you order panels individually, you can get frosted glass along the knee wall and then clear glass on the other side, to maximize light in the shower while still having privacy in the direction facing the door. You can have the best of both worlds!
Add a Counter Outside the Shower
Finally, if you frequently need a lot of space to get ready in the morning, you can use your knee wall as a way to install more counter space in your bathroom. The wall extends up to counter height, and ends in your preferred countertop material. This can be best for preserving modesty discreetly, because counters can frequently be up to four feet high.
You can also, like a vanity, extend this countertop into your shower. It can make an excellent shelf for any shower products you need, while also being up and out of the way so delicate products don't get wet before they're supposed to. Using one single surface from outside to inside the shower is a thoughtful touch here. A quartz or granite countertop will look excellent with glass and metal in the shower, and it stands up great to water exposure. Consider color-coordinating your counter with your tile for that final touch!
Wrapping Up
Glass showers are truly a timeless look, but their defining feature can also be some people's biggest object. Just because you prefer to have more opaque features between you and the world doesn't mean you can't enjoy the beauty of a glass shower in your home. If you combine a knee wall with the glass shower aesthetic, you can have all the privacy you want with the elegance of glass.
This kind of customization is easy to achieve with the simple ordering platform of Glass Shower Direct. Figure out the dimensions you have and you can get the glass you need delivered right to your door.