When it comes to elevating the aesthetic and functionality of your bathroom space, the choice of a frameless design is an excellent option.
Frameless shower doors offer a sleek and modern look, and they can transform your bathroom into a luxurious oasis. Unlike traditional framed shower doors, frameless options don't have bulky metal edges, making them an ideal addition to a modern and minimalist bathroom design.
In this guide, we will take you through the process of choosing the best quality frameless shower design that suits your needs, whether you have a small bathroom, a large one, or anything in between.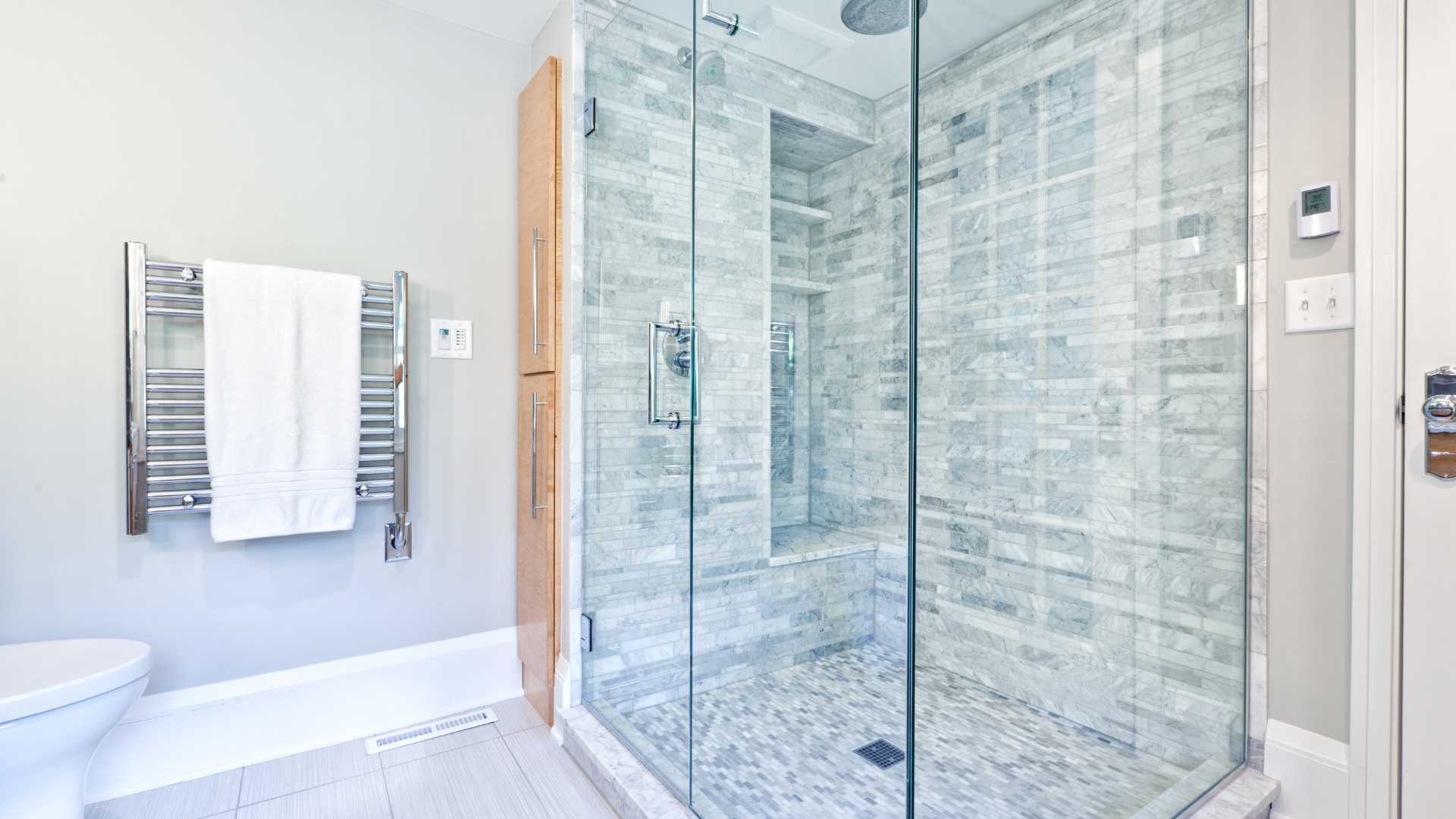 Popular Types Of Frameless Shower Doors
Before delving into the decision-making process, let's explore the various frameless shower design options available:
Sliding Shower Doors
Perfect for bathrooms with limited space, these sliding doors glide effortlessly along a track, saving valuable floor space while offering a contemporary and sleek look that complements various bathroom designs.
Hinged Shower Doors
Hinged doors provide a more traditional and elegant appearance. They pivot on a hinge, offering a wide entry into the shower and making a statement with their luxurious design, perfect for larger bathrooms.
Bypass Shower Doors
Consisting of two glass panels that slide past each other, bypass shower doors are an excellent choice for bathrooms with tight corners or limited space. This design maximizes space while providing a stunning look.
Bifold Closet Door
For a unique shower door option, consider the bifold closet door. It folds in on itself, saving space and offering a distinctive design, perfect for those seeking something different.
How To Choose The Best Frameless Shower Door?
Here's what to keep in mind when buying a new shower door –
Sturdiness and Durability
Your shower should withstand the test of time. Plastic and fiberglass can crack, and doors with metal frames may suffer from corrosion due to constant exposure to water.
The best frameless shower door is crafted from high-quality materials, especially tempered glass, known for its durability and safety.
It remains in pristine condition for years, free from the scratches and dings that can affect softer shower door materials. Additionally, replacing parts or the entire door is a straightforward process, unlike pre-fabricated shower kits.
Easy Maintenance and Cleanliness
A practical shower should be easy to clean. Grime buildup, often hard to notice during daily use, can be challenging to address, particularly in homes with children, pets, or an active lifestyle.
Frameless glass shower doors eliminate hard-to-clean areas, allowing for easy maintenance. Their smooth glass surfaces can be effortlessly cleaned and ensure that no spot goes unnoticed.
A Unique Look: Inline Shower Layout #12
Inline Frameless Shower Layout #12

Striking Appearance

Super Sturdy

Fully Frameless Design
Great Look for Every Bathroom
Direction of the Shower Door
The configuration of your frameless shower door is crucial. This includes whether the door opens on either the right or left side or even both. 
Many shower doors, even frameless varieties, only open in one direction. That's limiting. Being able to swing a door open and not worry about things like whether you push or pull can be great for simplifying your morning routine. 
It can also help guests and children feel more at ease when using the shower because there is no guesswork in the shower. A custom shower door design that aligns with your bathroom layout ensures a seamless fit and streamlines your daily routine.
Speaking of which, your shower should really be customizable in as many ways as possible. Many big box stores sell shower kits, where the shower is pre-made, and you need to change the dimensions of your bathroom to suit the shower, instead of the other way around.
What if instead, the shower's dimensions were totally up to you? The best quality glass doors should be customized to your exact size specifications.
You should be able to choose the shower door's height, width, and even things like where the hinges are positioned. With this level of customization, you can be sure that your shower door is exactly what you want and fits your needs.
Selecting the color of the hardware and the appearance of the glass is the finishing touch to your shower's aesthetic.
With colors like silver, gold, and black, you have everything you need to make sure that your shower's aesthetic is both chic and modern, and that it will match with the rest of the room.
You should also be able to choose the glass quality – some people love how clear glass looks, and others prefer the privacy of frosted glass.
Both are appealing to the eye, and both can look great in every bathroom. With a high-quality frameless glass shower door, the decision is up to you, as it should be!
FAQs - Best Quality Frameless Shower Designs
Are frameless shower doors suitable for small bathrooms?
Absolutely. Frameless doors create an illusion of space with their minimalist design, making them an excellent choice for small bathrooms.
What is the advantage of thicker glass in custom frameless shower doors?
Thicker glass adds durability and a luxurious feel to your glass shower enclosure, ensuring it lasts for years and enhances your bathroom's elegance.
What is the most popular shower glass?
Clear glass is one of the most popular choices for custom glass doors due to its sleek and timeless look. However, preferences may vary, and some individuals opt for frosted or textured glass for added privacy.
What is the easiest shower door to keep clean?
Frameless glass shower doors are among the easiest to clean due to their smooth surfaces and absence of metal frames that can trap dirt and grime.
How can I make my shower more luxurious?
To make your shower more luxurious, you can invest in features like rainfall showerheads, body jets, steam options, and custom lighting. A frameless glass door can also contribute to the overall luxurious feel.
What type of walk-in shower is best?
The best type of walk-in shower depends on your preferences, but a frameless glass walk-in shower can provide a modern and open feel. Customization is key to achieving the perfect design for your space.
How thick should frameless shower glass be?
The thickness of frameless shower glass is typically 3/8 inch or 1/2 inch. The choice depends on your desired level of durability and the overall look you want to achieve. Remember, the thicker the glass, the better the durability.
Angled Shower Customization: Multi-Angle Frameless Glass Shower Layout 8
Multi-Angle Frameless Glass Shower Layout 8

Large Door Available

Customizeable
Fully Frameless Design
Fits  Your Unique Space
Pick The Best Frameless Glass Shower Doors For Your Bathroom!
Choosing the best shower design is an exciting journey that can transform your shower experience into a sanctuary of relaxation and style.
With a variety of options, high-quality materials, and customization features, your frameless shower door can be a unique and functional addition to your home. 
Remember, precise measurements are crucial when buying frameless shower doors to prevent leaks and ensure a tight seal. Measure from the top of the shower base to the top of the opening to get the right size for your custom glass shower enclosure.
So, go ahead and bring a touch of elegance and modernity to your bathroom with a custom frameless shower design that suits your style and space.
For personalized assistance in choosing the perfect glass frameless shower door for your bathroom, feel free to contact us. We are here to help you turn your bathroom dreams into reality!