Are you looking for a unique shower design? Do you have a wide space that you want to turn into the roomy shower of your dreams? Then you have come to the right place. There are plenty of prefab showers out there that are boring and won't catch anyone's eye. However, with an elegant frameless glass shower door, you can build a great shower that stands out from the crowd. There are plenty of options available to you for customization – here's how to design the best glass shower door.
At Glass Shower Direct, a 48-inch glass shower door is typically made of two components – the 30-inch door itself, and an 18-inch glass stationary panel. This keeps the door nice and wide, while also keeping the door  from having an unwieldy amount of space it fills when you open it. Having these two parts involved gives you a lot of room to play and decide what works best for you.
A Bold Choice – Inline Shower Layout #7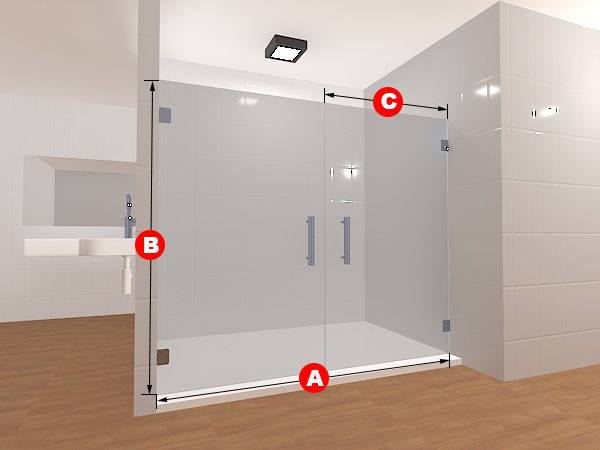 Inline Frameless Shower Layout #7
Wide Doors
Zero-Threshold Entrance
Fully Frameless Design
Fills Wide Spaces Easily
Shower Location
The first thing to consider when installing a wide shower door is where in the shower should it be. If your shower is in an alcove, then there's really only one option – across the front of the shower nook. However, if you have a two- or three-side glass shower enclosure, then you get to choose which of those panels has the door.
A good option is to look at your bathroom floorplan and choose the side that gives you the most room to maneuver. You want to make sure your door has plenty of room to swing open, and for someone to enter the shower while the door is open. If you have multiple sites that fulfill this requirement, then you can choose whatever looks nicest!
Shower Space
You can also choose what side of the panel the door is on. Do you prefer having the door aligned to the left or the right corner? This has less of an overall impact on how the door functions in the space. However, since all of Glass Shower Direct's doors open both in and out, you might want to consider keeping the door slightly away from the wall. This keeps the door from running into things as often, especially if the door opens next to the showerhead or handle.
Shower Door Opening Direction
Like both of the above options, the opening direction can affect how your shower works in the overall bathroom space. Make sure the direction you choose doesn't run the shower door into any obstacles, and you're all set. You can also keep in mind handedness – if you're left-handed, it may feel more natural to have a door that opens to the left, and vice-versa.
Customizable: Inline Frameless Glass Shower Layout #6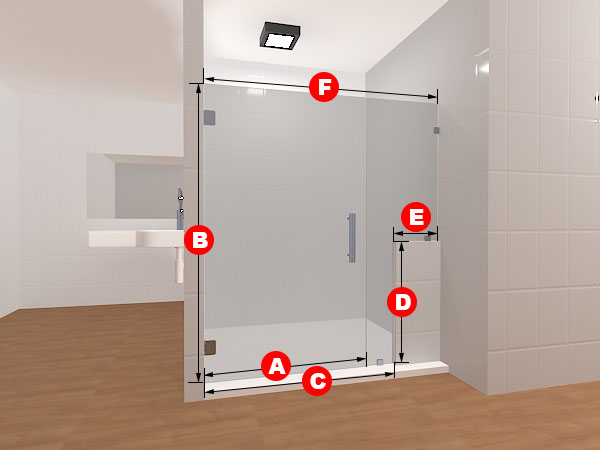 Inline Glass Shower Layout #6
Large Door Available

Customized with Knee Wall

Fully Frameless Design

Fills Wide Spaces Easily
Glass Shower Hardware
The final aspect that affects how the door actually works is where the hinge is set on the door. Hinges can be along the exterior edge of the door, so it opens traditionally, or they can be attached several inches in along the top and bottom, so the door has a smaller radius it covers when it opens.
If you want a large door but you're working with a tight floorplan, the second option might be right for you. This second option does require that your shower door goes all the way up to the ceiling, however, so keep that in mind!
All four of these options work together. Placing the static panel on one side or the other of the door can shift the whole dynamic of how the shower fits in the space. So can changing the direction the shower opens. The great thing about a custom shower is that you can make your shower be exactly what works best in the space you have by adjusting all of these variables.
Shower Color
As for things that don't affect the floorplan itself, you can consider color an important aspect of your shower door. The best 48-inch glass shower door for you will be one that matches the colors you're already using in your bathroom. The fixtures in the shower can match the plumbing, with gold, silver, and black hardware options. One of these will probably work well for you.
You also get to choose the finish of the glass in your shower. Frosted glass makes your shower feel much more private. Meanwhile, clear glass can help keep a smaller bathroom floorplan feeling open, which is especially important when you're putting in a shower that needs a 48-inch door panel. Either way, you get to pick out the finish that will make it right for your space.
Shower Height
The last element to remember is the height of your glass shower door. It's recommended that your shower door come several inches above the showerhead, to keep water inside the shower enclosure, but other than that it's up to you. If you want the shower to brush the ceiling, that's an option. You can also keep it shorter and give room for humidity to escape. Both options have aesthetic bonuses, as well.
Wrapping Up
All of these aspects can help your elderly parent remain independent for a much longer time. Showers can be a great source of stress relief, and being able to keep their dignity and modesty is very important to many older people. Helping your favorite elderly person hold onto this aspect of their independence is a great gift. Focus on making their shower the cleanest, safest, and most visually-appealing experience it can be, and you can give them the golden years they deserve.