When you're looking to redo your bathroom, you might run into the common problem: bathrooms tend to have weird dimensions. You may have half walls, you may have extra-narrow or extra-wide chunks of open floor, or you might just have weird angles to work with. In all of these scenarios, you can feel stuck.
However, you don't need to stress. There are plenty of shower options available to you, especially if you're taking a wide space and turning it into your dream shower. A traditional shower won't work in that kind of space. What you need is a custom shower door and inline panel to set up your space the way you want it. Here's how to choose the best frameless hinged shower for an inline panel setup.
The Simplest Choice – Single Glass Shower Layout #1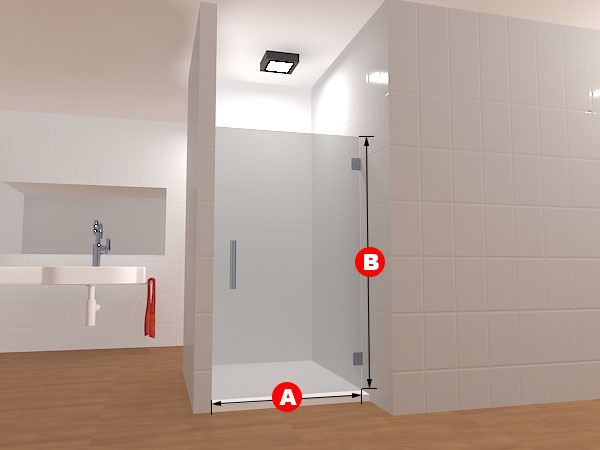 Inline Frameless Shower Layout 1

Only One Panel

Zero-Threshold Entrance

Fully Frameless Design
Fits the Space You Have
Consider Your Shower Space
What does your bathroom look like? If you have a long narrow room, or if you have an alcove where an old kit shower used to be, you may have the perfect space to do an inline panel and shower door setup. Anywhere where you have parallel walls and the ability to put in a drain, you can have an inline panel and shower door installed for your dream shower.
With customized dimensions, you have the ability to make the door as wide or as narrow as is comfortable for your, along with a side inline panel to fill the rest of the space. You can also make the door and panel as tall as you need in order to keep any splashes inside.
Consider Your Shower Preferences
Do you like a bigger shower or smaller? Do you prefer to be able to see over the shower door or do you want a shower head up high and a shower door to match? If you have interesting or hard-to-find desires for your shower, a custom shower is exactly what you need.
You can also choose to prioritize privacy or clarity by choosing whether you want your shower to be clear or frosted glass. If that's not enough, any color scheme you could prefer can be matched with hardware for your frameless hinged glass shower.
Look Beyond Pre-Fab Showers
If you're looking for an inline panel glass shower, you might see some pre-fabricated showers on the market. However, these showers are designed for specific, strict dimensions, and you can run into issues if you're working with a non-standard space.
Going custom can open up new worlds and new possibilities in any bathroom. It can also be comparable in cost to a pre-fab shower kit, or even cheaper. You can have a wider variety of colors, too. Don't stick with bland mass-produced showers just because everyone else does. You can do better than that!
Big Dreams: Multi-Angle Neo Shower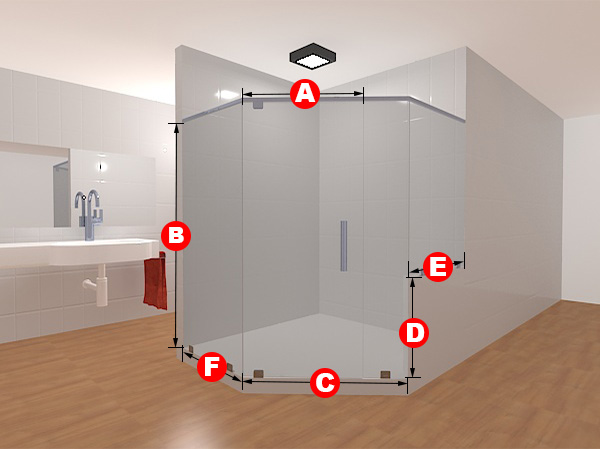 Multi-Angle Frameless Shower #16
Fits Your Space

Customized with Knee Wall

Fully Frameless Design

Plenty of Room
Enjoy the Freedom of Tile
If you have a specific favorite color, or if you want to have something unique, a glass hinged shower with an inline panel might be the perfect solution. Glass goes with everything! You could use the popular subway tile pattern in any color you prefer, a more traditional tile pattern, or even put a mosaic along your wall. When you're building a custom shower, any of this is possible, and a frameless glass shower will match anything you choose.
Keep Other Renovations in Mind
Are you tiling over a previous set of tiles? Are you adding or removing walls? Are you removing or adding a curb to the floor of the shower? Any of these can make a kit shower the wrong choice. They alter the size of the available space, and leave you in a difficult situation.
However, a custom shower can make this no problem. A frameless hinged shower with an inline panel can fill an odd space, especially ones that are not quite any set of standard dimensions. Just measuring the space you have and ordering what you need will make the whole process super simple. Glass Showers Direct allows you to measure things to an eighth of an inch, so no tile problems will prevent you from making the space you have work.
Don't Be Afraid to Dream Big
Getting a large shower that's already made for your can be expensive and might not be exactly what you want. However, when you're buying the components of the shower custom made, just for you, you don't need to compromise.
Waterfall showers, large showers, showers with multiple showerheads or a built-in seat are all possibilities when you are designing your own space. Your imagination is the limit, and someone else's design dimensions can be forgotten. It's up to you!
Wrapping Up
The best renovation is the one that makes you happy with your space. Don't limit yourself to what someone else designed. Prefab showers are designed to be sold to hundreds and thousands of homeowners, and so they are by nature bland. Your shower can be a bold, bright statement piece that makes your bathroom feel like a spa. Getting a frameless glass door is one of the easiest ways to make this feeling your own! Check out Glass Shower Direct and start designing your perfect shower now.