Today's showers are more and more often going curbless – they're removing the lip at the edge of the shower space. This lip is traditionally present to contain water in the shower, but today there are plenty of ways to do that without an unsightly ridge being present.
This curbless style is relatively simple and very fashionable. Companies are even building specific items like glass shower doors specifically for curbless showers. It's a tempting style! But just because everyone else is doing it doesn't mean you should too. If you're curious about the all the reasons to get a curbless shower, here are some of the top benefits of this modern style!
Easy to Care For: Neo Glass Shower #8
Multi-Angle Glass Shower #8

Simple to Keep Clean

Curbless Entrance

Fully Frameless Design
Easy Access for Mobility-Impaired
Easy to Clean
First and foremost, curbless showers make the whole bathroom easier to clean. Without a ridge between the shower and the main floor, you don't have nearly as many nooks and crannies for bathroom grime to hide. There's just the floor and the walls! It is much simpler to just spray things down with a cleaner, and then spray it off again with water. When it's that simple, it's less hassle to clean the shower. You might even find yourself cleaning it daily.
Combine this with an easy-to-clean shower enclosure like a frameless glass shower, and you have the easiest cleaning experience possible. The lack of a frame on the shower means that you've doubled down on removing hidden places that grime can accumulate. You also have a huge smooth surface that is super easy to clean, minimizing grout, metal, or plastic that might stain or corrode.
Removing the curb also makes it easier to clean the rest of the bathroom. If you need to mop, you can mop the entire floor space of the bathroom at once. You don't need to worry about soaking up all the dirty water and carrying it to a drain. Instead, you can just open the shower door and mop the water directly down the drain and out of your life. The same goes for any cleaner used on the outside of the shower – just wipe any drips into the shower enclosure and you're done. That's about as easy as it gets.
Aesthetics
A curbless shower just looks cool. It's as simple as that. If you're looking for a shower that can help your whole bathroom feel updated, a curbless shower is something you should really consider. It looks sleek and shows that you've put some thought, attention, and effort into how your space looks. That's something that really shows when a guest is in your home, and can put them more at ease.
A curbless shower can also show off other aesthetic choices in your bathroom. If you have interesting tile in your shower, like a mosaic or simply interesting colors, then removing the curb makes it more obvious from outside the shower. If you combine this with a clear, frameless glass shower, you can see the interior of the shower perfectly, and the tilework inside can become the centerpiece of your entire bathroom.
If that kind of design doesn't appeal to you, you can also go very simple. A curbless shower lends itself to a very modern feel. Lean into that with similarly modern hardware throughout the bathroom and shower, and you can get a space age feel for nearly no effort.
Opening Direction 
Like both of the above options, the opening direction can affect how your shower works in the overall bathroom space. Make sure the direction you choose doesn't run the shower door into any obstacles, and you're all set. You can also keep in mind handedness – if you're left-handed, it may feel more natural to have a door that opens to the left, and vice-versa.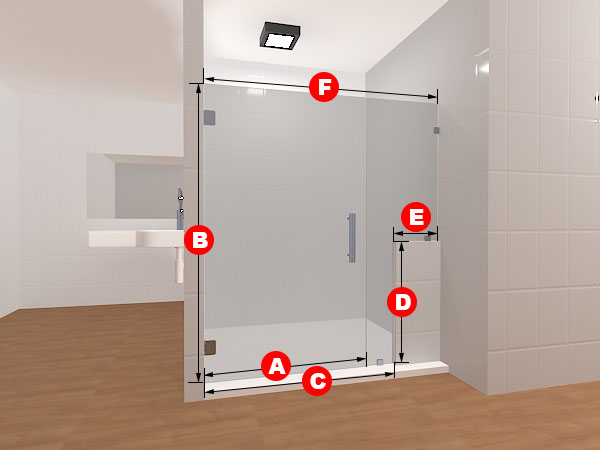 Inline Frameless Glass Shower Layout #6

Compact Design Ideal for Small Spaces

Customized with Knee Wall

Fully Frameless Design

Classic Look
Safety and Functionality
The curb of a shower can actually cause safety problems if you have small children or elderly adults who use that space. It creates a tripping hazard, and showers are by nature filled with hard surfaces that make falls more dangerous. It's all too easy to slip on a wet floor, hit the curb, and then injure yourself. By installing a curbless shower, you're removing one of the most dangerous aspects of the bathroom.
Outside of safety concerns, removing the shower curb also increases general functionality of your shower. If someone has mobility problems, removing the ridge from your shower allows them to enter the shower easily with whatever mobility aids they use. This kind of custom shower, if you include a glass door that can open in either direction and can be built as wide as you need, is incredibly helpful for people who are disabled, injured, or older.
Maximize Space
Finally, if you're looking to make the most of the space you have, removing the curb from your shower can make both the bathroom as a whole and the shower specifically feel much more roomy. Shower curbs are often effectively several inches wide.
In a 3' by 4' shower, three inches of space dedicated to the curb along two sides of the shower can remove more than two square feet of space, and there's only 12 square feet to begin with! Cutting the curb in this case increases your shower size by 20% with almost no effort. That seems worth it!
If you're looking to maximize space, a glass shower door can be combined with a curbless shower to make even a tiny bathroom feel bigger. A clear frameless glass shower door keeps lines of sight open. You'd be amazed at how much more spacious a room feels just because you can see an extra three feet of space.
Wrapping Up
Curbless showers are trending for plenty of reasons. They are stylish, they are practical, and they are simpler to install than you might think. If you're in the market for a new shower, or if you're just dreaming about a more comfortable bathroom, you should consider installing a curbless shower with a frameless glass shower door. You can design the shower of your dreams without breaking the bank, and a frameless glass shower is the way to do it.