If you're renovating your bathroom, something you probably want to update is your old bathtub. There are tons of ugly kit shower-bath combinations out there, many of them damaged or harboring hidden mold. The question is what should you replace it with? A new kit shower-bath will have the same problems in a few years, and there aren't many other options that fit that space. Trying to find a shower kit for a 3' by 6.5' space is hard, because most of them are just modern versions of the ugly tub you want to remove!
However! Where getting something elegant and pre-built for that space is hard, if you get a custom glass shower enclosure, 36" x 78" is easily filled. A custom shower enclosure means that strange dimensions or particularly long walls aren't a problem. Here are four huge benefits of replacing an ugly kit tub with a modern shower.
Extra Wide: Inline Glass Shower #14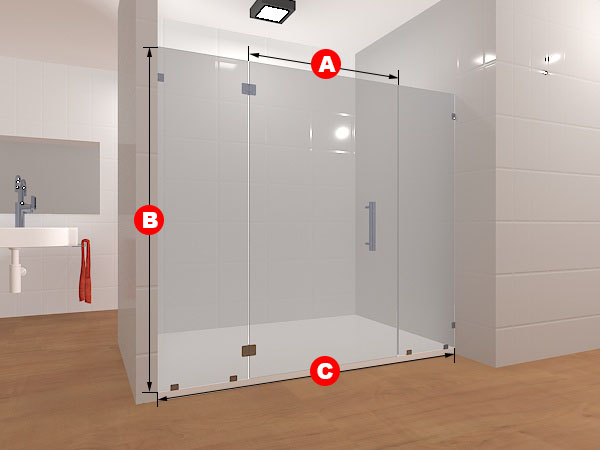 Inline Frameless Shower Layout #14

Frosted Glass Options for Privacy

Spa-like Atmosphere

Fully Frameless Design

Customizable Hardware
Showers Have More Room
If you compare a tub and a shower of the same outside dimensions, the shower has more room inside. Showers have much thinner walls than tubs do. If you're trying to make a small bathroom feel larger, a big shower with a clear wall will make a room feel much more open than the same space filled by a tub. It also gives you the opportunity to have features like a shower bench or a counter at one end, since you have so much free space.
Showers in the space of an old tub can be fitted to have multiple showerheads. This conversion can be difficult to pull off if you hold onto an old kit tub, because many of those are built in one piece. Getting to the plumbing to add an extra showerhead without damaging the tub itself may be impossible. However, with a custom glass shower, each piece is individually made, and can be removed or replaced as necessary.
Showers Have the Ability to Go Curbless
With a shower, you also have the ability to go curbless. Tubs are not great for people with mobility issues. It can be very hard to get into or out of a shower tub if someone has an injury or disability. However, with a curbless shower, you can get rid of any barrier to entry between the outside and inside of the shower.
The curbless style is also currently very popular. There are lots of style guides for how to make a curbless shower as aesthetically pleasing as possible. The most common thing you'll see in these style guides is a hinged glass shower door above that edge. This kind of setup makes the shower its own room, with a door you open and close to enter. Many home designers agree that this is the kind of touch that can elevate your bathroom from just another room to a place you enjoy being.
Fill Your Space: Inline Framless Shower #7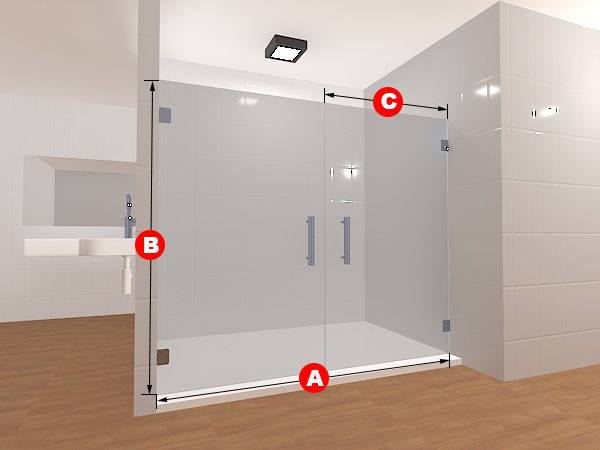 Inline Framless Glass Shower #7

Make a Bold Statement

Customized with Knee Wall

Fully Frameless Design

Easy to Update
Showers Are Water Efficient
Showers are also much more planet-friendly than baths. According to the National Kitchen and Bath Association, the average bathtub holds about 37 gallons of water. Meanwhile, with a modern showerhead that uses two gallons of water a minute, it would take an 18-minute shower to reach the amount of water used in one bath. Most of us aren't breaking 20 minutes in our showers on the daily, so for your day-to-day cleanliness purposes, showers are better for the Earth.
Speaking of planet-friendliness, all of the components of a frameless glass shower are recyclable. Kit tubs are frequently made out of fiberglass, and it's essentially impossible to recycle that material. However, glass and metal are two of the easiest materials to reuse. So, if in the future a new homeowner decides to remove or replace parts of your shower, those elements don't have to go in the dump. It's better all around!
Showers Are Simpler to Update
While your new custom glass shower will look great for decades to come, sometimes your style changes more quickly than that. If you decide you want to change your bathroom's colors scheme from silver to gold, changing your shower's hardware is as simple as ordering new options online and having a friend help you install them. The fixtures that come with a kit tub are often hard to replace, and accent colors may be a part of the actual tub itself and difficult to change.
You can also do larger renovations, like adding or removing a shower bench, very easily. You can order new glass to new specifications online a panel at a time if you want. Kits have much less flexibility. They lock you in to a certain look, a certain layout, and someone else's design choices. This looks dated quickly. A custom glass shower lets you do what you want!
Wrapping Up
Kit tubs are not the choice most people prefer for their bathrooms. They are awkward to bring into a home, they don't always age well, and they are bad for the planet. If you have a 36" by 78" space in your bathroom that you want to fill with something, consider adding a custom glass shower enclosure.
Glass panels help make your bathroom appear bigger and more stylish. The metallic accents of the hardware add a pop of colors, while the lack of a frame helps you keep your bathroom cleaner. It's a no-brainer – getting a custom glass shower will make your bathroom a much more pleasant place to spend time.